When it comes to body hair removal, the first thought that crosses our minds is pain. We dread our monthly waxing sessions more than anything else. But with YLG, you don't have to cringe at the thought of waxing anymore! Wax everything, from your brows to your toes, and you won't feel a smidgen of pain.
At YLG, we do away from the usual sugar wax, which burns the skin. We give you a waxing experience that is hygienic, practically painless and luxurious.
YLG has three wide ranges of generic online to choose from during waxing. We have the specially formulated Brightening Waxes, the 99% painless Brazilian Waxing and other waxes which have been keeping your hygiene in mind.
Ladies, welcome to the Society of Smooth.
Discover YLG Brightening Wax
A unique formula, infused with saffron and arbutin, YLG's Brightening Wax will leave your skin silky smooth, while brightening it.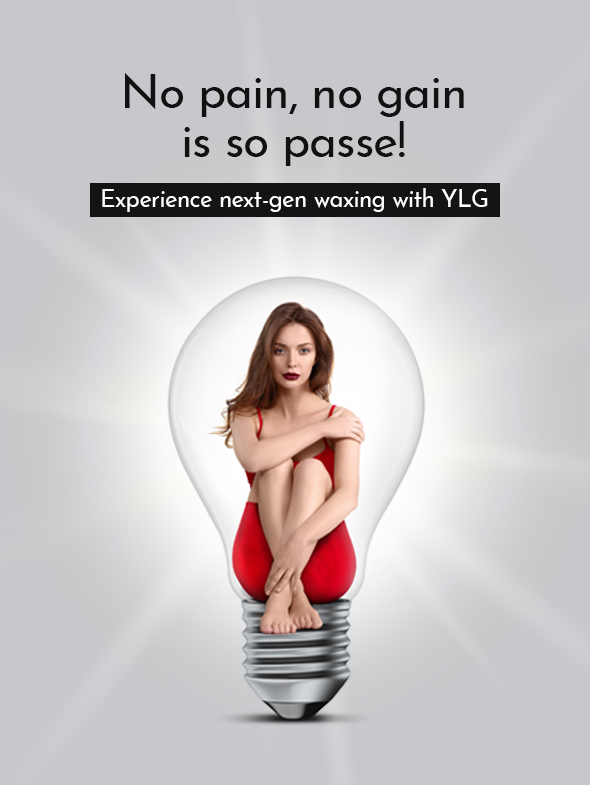 Platinum Sensitive Wax

Give your skin the best it can get with Platinum Sensitive Brightening Wax. Made especially for sensitive skin, we ensure your skin won't hurt after waxing.
Gold Sensitive Wax

Your sensitive skin won't hate waxing anymore! With the Gold Sensitive Brightening Wax, experience 99% painless waxing.
Saffron Brightening Wax

This formula is infused with saffron, and made scientifically to ensure you have the best waxing experience.
Sinful Chocolate Wax

Your guilty pleasure is your now skin's guilty pleasure. YLG's Chocolate Waxing not only ensures radiance with a rich afterglow but also makes your skin sinfully smooth and exquisite.
Gold Wax

Get a golden glow on your skin with YLG's Gold Wax. Get the golden glow that will make everyone jealous. Now isn't that a very good reason to give it a try?
Bio-Marine Wax

Experience the benefits of smooth and soft skin with YLG's Bio-Marine Waxing. This delightful waxing is proven effective for nearly painless and ultra-hygienic hair growth reduction.
Aloe Green Wax

Naturally relaxing and good, YLG's Aloe Vera Wax gives you the nourishing touch of nature while leaving your skin radiant, smooth and naturally glowing.
Still Unsure About Brazilian Waxing?
Let us change your mind.
Brazilian waxing at YLG is 99% painless. The cream-based Brazilian Wax is specially manufactured for YLG Salons. The low melting point of the wax doesn't require it to be heated to a high temperature. The smooth wax is of perfect consistency to be applied evenly on the hair to be removed. Especially developed for sensitive skin, it is ideal for intimate areas and doesn't cause any burns. The wax dries quickly too and pulls out hair from the roots with ease. There are no strips used and no rashes caused. The entire procedure takes less than half an hour to complete.
We're sure you have some questions about Brazilian Waxing. Let us put your mind to ease!
What is Brazilian Waxing?
Brazilian Waxing is a strip-less, non-messy waxing for bikini areas. YLG is one of the most trusted names in the industry for painless bikini waxing.
Will it pain?
It is a 99% painless wax. The cream-based, smooth wax sticks to hair and not to skin, so only the hair is pulled out from the roots. Our waxing experts ensure the entire procedure is painless. Discover smooth skin without any cuts, burns, rashes or pain.
When is it a good time to get a Brazilian Wax?
You can get a Brazilian anytime you want!
Pro-tip – It's always good if you get it done before your periods. Avoid during periods.
What is the advantage of Brazilian Waxing?
It is hygienic and gives you freedom from bushy, unwanted and unclean hair. No pain, no burns, no rashes and it slows down hair growth. Discover baby-smooth skin.
Take the leap and discover the waxing everyone raves about. Book your appointment for a Brazilian Waxing session today!